---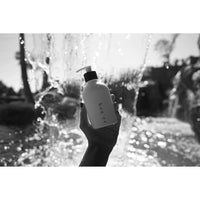 Riddle Boujee Body Oil Sphinx
Riddle Oil
Scent Category - Woody and Light
Scent Notes - Egyptian Musk | Sandalwood
Oh, hello, Boujee! Our silky and fragrant neck to toe body oil is going to keep you coming back for more. Take a long hot bath, apply some Boujee oil to your skin, and slip into something cozy. This body oil is going to elevate your skins moisture levels and your shelfie game. Our Boujee oil will deliver nourishing ingredients for a healthy glow while also leaving behind a beautiful scent. Layer your favorite Riddle scented Roll-on with the complimentary Boujee, and your scent will smell more potent and last longer. 
Ingredients: Parfum, Benzyl Benzoate, Hydroxycitronellal, Helianthus Annuus (Sunflower) Seed Oil, Vitis Vinifera (Grape) Seed Oil, Carthamus Tinctorius (Safflower), Seed Oil, Tocoperol (Vitamin E) Oil

Cruelty-free | Vegan | Non-toxic | Hypoallergenic
Instructions: Pump oil into hand and massage into skin until absorbed. Avoid contact with face.
Your body oil will come in a glass bottle with pump.
**all Riddle oil perfume and body care is a final sale**
 

PLEASE READ BEFORE BUYING THE ORIGINAL OR SPHINX SCENTS:
Original and Sphinx are alluring, complex, mysterious, and considered more like pheromone oils than fragrances. Original and Sphinx are formulated using ONLY base notes, so you will not always receive instant gratification right out of the bottle. These oils require body heat to fully activate and melds with your body chemistry before doing so. This means you may not smell it very strongly since you are used to your own scent.
It is also important to know that:
Some people are genetically musk anosmic and cannot smell this scent at all. 

Some can smell it on others but not themselves.

Some think it smells "off" because of their hormones and other environmental factors.

Some have worn this scent before, loved it, and think their new bottle is scentless and a "bad batch."

Some compare new bottles to old ones and believe the new ones are scentless. This is because the molecules in the old bottle are broken down and release more scent.

Some ask several people if their bottle is scentless. If you have time, feel free to learn more about confirmation and affinity bias.

Some think the scent is beautifully robust and smell it every time.
We list all the above points to say that while our batches are incredibly consistent, our noses and perceptions are not. We ask that you purchase with the above knowledge. We do not accept returns due to the nature of our products.